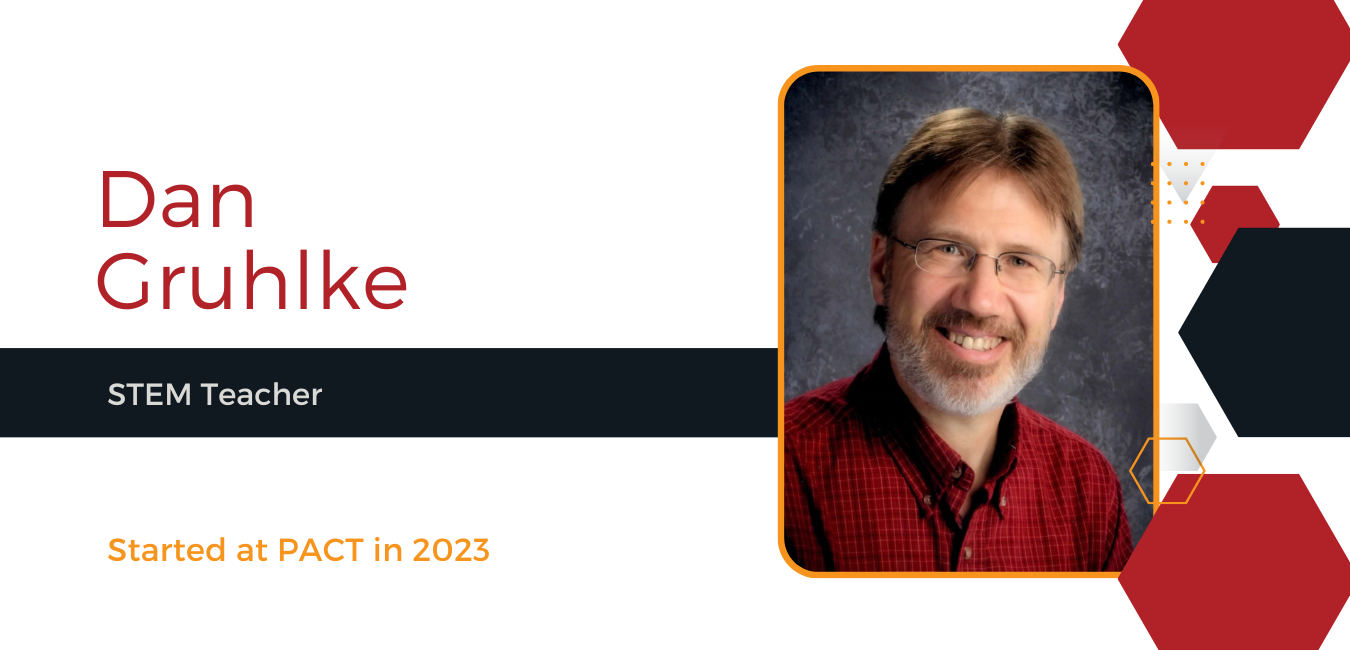 EDUCATION
M.S. Child and Family Studies, St. Cloud State University
B.S. Elementary Education, Crown College
B.A. Christian Education, Crown College
PROFESSIONAL EXPERIENCE
Mr. Gruhlke has taught Elementary students for over 35 years:
Kindergarten Teacher Long-term Substitute, Parker Elementary School, Elk River  (2023).

Achieved all end-of-year classroom goals with students, collaborating with colleagues, and communicating with parents. 

STEM Specialist (2021-2017) Eastview Education Center, Monticello (2017-2021).

Initiated, developed, and implemented the district's first elementary STEM program covering all Science Standards and CSTA Interim Standards

Kindergarten, Grades 1 and 4, and Targeted Services, Pinewood Elementary School, Monticello, MN (1990-2017)
AWARDS | CERTIFICATIONS
Board of Directors Outstanding Director (June 2021-January 2019) Minnesota Science Teachers Association 

Bruce Vento Science Educator Award (2018) Pursued and received funding for "From the Ground Up" to pursue our district's vision and planning for nature-based education. 

Leadership in Educational Excellence Award (October 2018) Resource Training and Solutions

Presidential Award for Excellence in Mathematics and Science Teaching 2018 Minnesota Finalist (July 2018) National Science Foundation 

2018 Minnesota Outstanding Earth Science Teacher (May 2018) National Association of Geoscience Teachers 

Outstanding Service Award (May 2018) Education Minnesota Monticello 

"1,000 Words" 2nd and 1st Year Grants (2017, 2016). Developed artistic ways using kindergartners' photography in community photo show and a published book of pictures. 

Spotlight on Staff Success (May 2017) Sherburne and Northern Wright Special Education Cooperative 

Featured Teacher (February 2016) Minnesota Department of Agriculture, MAITC Newsletter 

"Sunflower House" (2015) Incorporated students in literature-based hands-on science in a school-wide courtyard attraction for over 1,000 students and families. 

Egg-cellent Readers (2004-1997) Envisioned, designed, and received funding from a Cargill subsidiary for a project that has supported young learners' literacy development. 

Multiple Mini-Grants Projects (2004, 2001-1998) Pursued funding for several all-school projects resulting in children corresponding with people around the world, attending a historical farm, and enhancing school grounds. 

"KinderFarming: E-I-E-I-O and Beyond" (2001-2000) Recipient of a grant from the Foundation for Excellence in Teaching and Learning. 

Terrific Tuesdays (1996-1995) Developed a bi-monthly three-month literacy project designed to involve fathers in the lives of their young children.
LIFE OUTSIDE PACT
Beyond the walls of PACT, he enjoys bicycling, particularly cyclo-touring. He continues to aim at cycling around Lake Superior as well as the Mississippi River, head to toe. Further, by foot, he enjoy walking and hiking. Finally (though not final), he is intrigued by the history and various ways of life on the Iron Range.
FAVORITE THING ABOUT PACT
Parent empowerment at PACT as well as student character development.
SPECIAL SKILLS
Can make an acorn cupule whistle regardless of whether it's from a red, white, or burr oak, and though not so well, can whistle with nearly every single finger/thumb, paired pointer-thumb combined, or tongue- or lips-only.
FAVORITE QUOTE
Reading about nature is fine, but if a person walks in the woods and listens carefully, he can learn more than what is in books, for they speak with the voice of God.