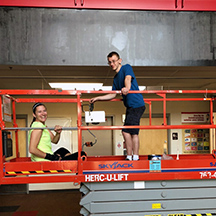 There are many building improvements leading to the start of school.
It's been a busy summer inside the PACT building the last three months, and final details are being added as we get ready for the first day of school on August 27. Here are a few improvements we think you'll love:
The building has been deep cleaned and the floors waxed. Common areas have been organized and decluttered.

The lost and found has been removed from the front entrance, making the space more welcoming. It has been relocated to the end of the hall near the band room.

The new half-day kindergarten room is ready and a few teachers have changed rooms.

There is a new branded slideshow at the entrances to showcase PACT to all those who enter our building.

Posters featuring PACT students and our character traits have been framed and hung around the building.

Panther logos have been added throughout.
The biggest change you will notice is the paint colors -- gray and black with pops of red! We are grateful for the hard work of Jody Shenkle and Heidi Blanchette who have worked tirelessly this summer to get it done.
We hope you love the changes as much as we do! We look forward to seeing you at Open House!