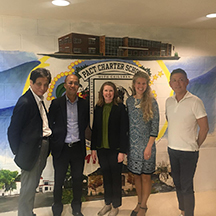 PACT administrators and our authorizer liaison from Bethel University recently met with educators from Japan researching charter schools and their relationship with their authorizer. One of the men has been following PACT since 1996, and all of them have been at PACT at least once before.
As part of a three-year government grant the men are researching charter schools.They were interested in things like school safety, the role of the authorizer, school autonomy, what a school decides on and when the authorizer gets involved. 
We were honored to host them!