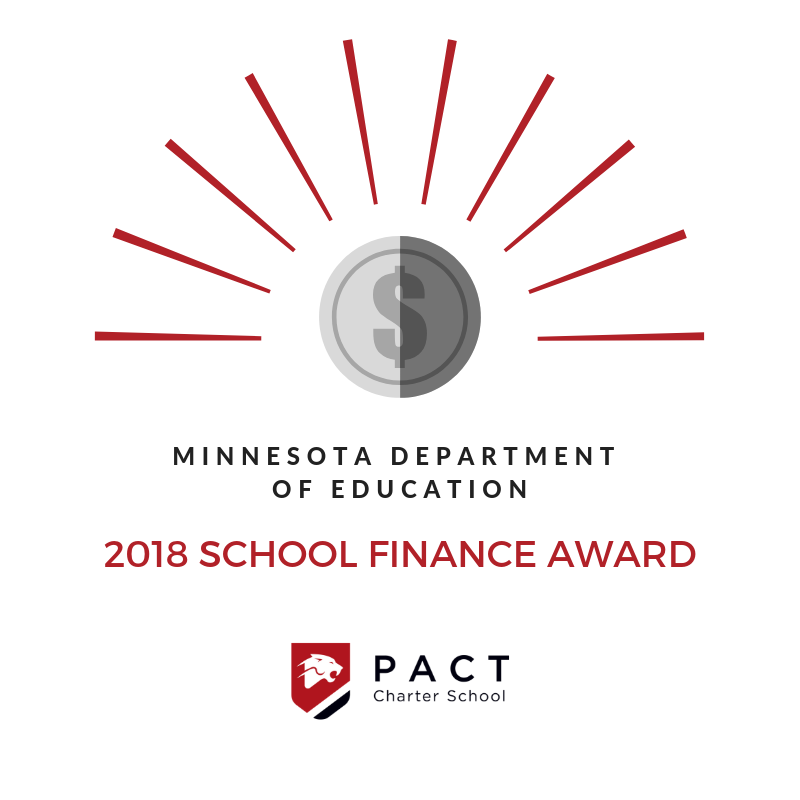 By Christine Erntson, marketing and communication coordinator
March 9, 2019 | 11 a.m.
PACT Charter School Receives Finance Award from Minnesota Department of Education


PACT Charter School has earned the 2018 Minnesota Department of Education (MDE) School Finance Award for its fiscal year 2017 financial results. Congratulations to Dr. Mertes, Executive Director, PACT staff and the PACT Board of Directors for this prestigious honor. Their tireless effort toward financial management while providing amazing opportunities for our students has not gone unnoticed.


The School Finance Award is awarded annually by the Minnesota Department of Education (MDE), Division of School Finance, to recognize schools for meeting statutory deadlines for submission of audited fiscal financial data and reporting criteria. MDE reviews publications, audit reports, and numerous pieces of financial data, and the school must demonstrate compliance with Minnesota statutes, accuracy in financial reporting, and zero or positive balance in their general fund, food service, community education, and debt service accounts. There was no application process for the 2018 School Finance Awards.


PACT has received this award six times since 2006.