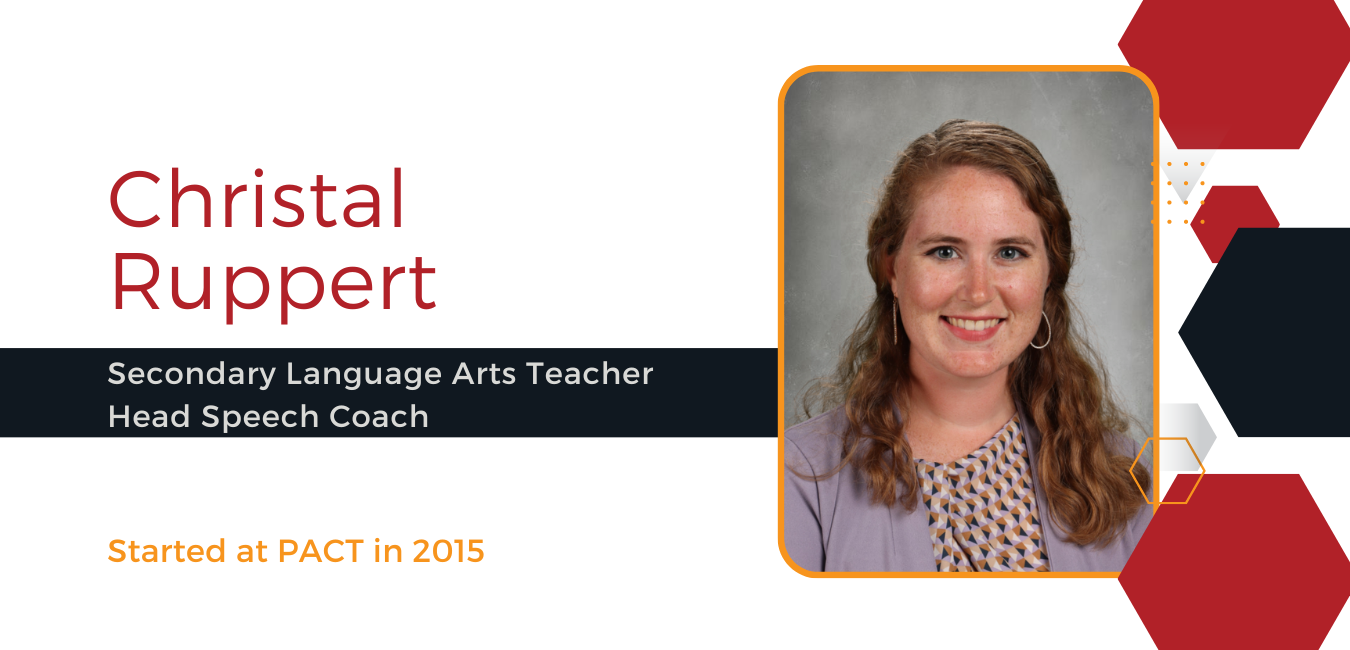 PROFESSIONAL EXPERIENCE
After graduation, Ms. Ruppert started teaching 8th, 9th, and 10th-grade language arts at PACT. She has since taught other courses such as creative writing, AP Language & Composition, argumentation and debate, Young Adult Literature, and journalism.
LIFE OUTSIDE PACT
Ms. Ruppert grew up in rural Minnesota with most of her extended family living in Nebraska, so she is well versed in the art of long car trips. She has two brothers in the military and a foster brother still in high school.

She lives in Ramsey and enjoys planning and organizing things, and loves to give book recommendations. She won an amateur writing award in 2019.

When not with students, she can be found writing, reading, going on more road trips or watching British television. Jane Austen's Elizabeth Bennet is her spirit animal.
FAVORITE THING ABOUT PACT
I absolutely love working with students - in all capacities. I love that I get to know the students at PACT, even if I don't have them in my classes.
OTHER WAYS INVOLVED at PACT
Head coach of the PACT Speech Team
Adviser of the literary magazine, Eunoia
Avid fan of every PACT sporting event
EDUCATION
B.S. Communication Arts and Literature Education, University of Northwestern - St. Paul
AWARDS | CERTIFICATIONS
Minnesota Speech Coaches Association Speech Coach of the Year for section 4A (2021)

ACFW Writing Excellence Award (2019)
Best PACT Soccer Mom Award (2018)
AREAS of EXPERTISE
Grammar goddess
YA literature connoisseur
Font snob
SPECIAL SKILLS
Able to recite Disney movies verbatim
FAVORITE QUOTE
We are what we repeatedly do. Excellence, therefore, is not an act but a habit.