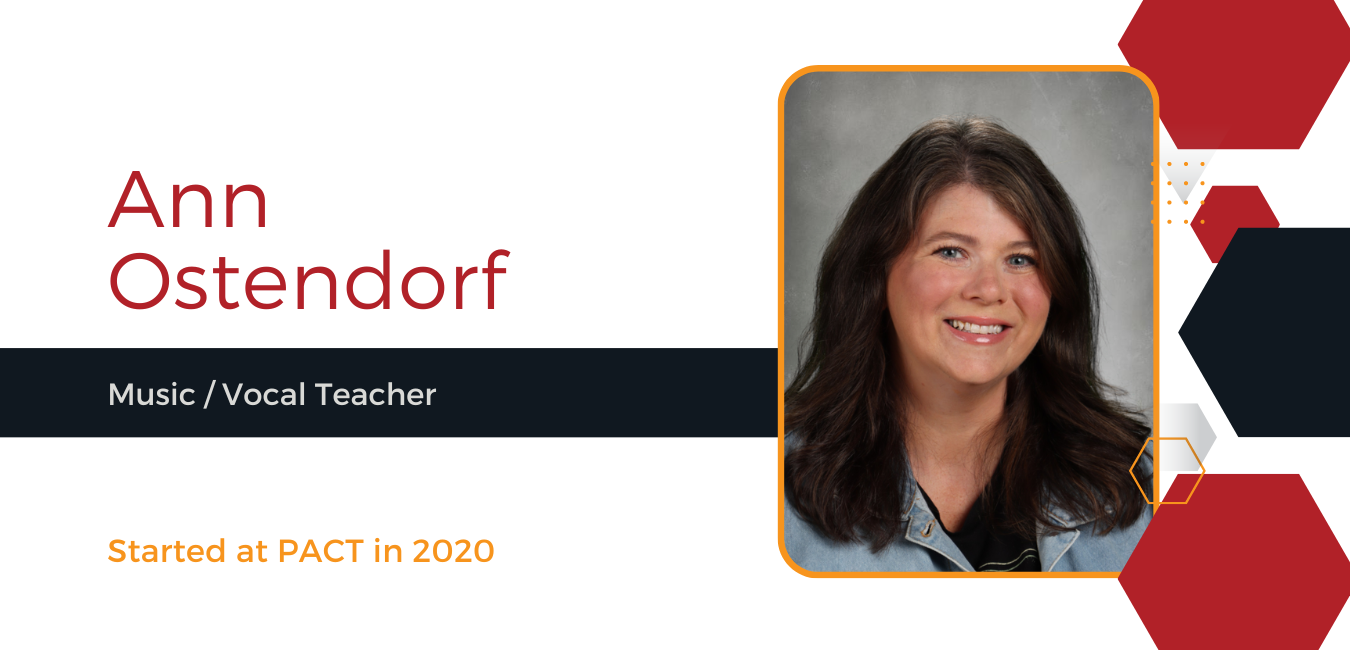 LIFE OUTSIDE PACT
Ms. Ostendorf was born and raised in Minnesota. Settled on the East Side of St. Paul and graduated high school from Harding. She attended college at Northwestern College, in Roseville, Minnesota.

At the start of her teaching career, she working in the Minneapolis School District and then landed at PACT Charter School as a music teacher for three years. And now she has come full circle!

After 13 years of raising her kids and teaching home school, private voice and piano lessons, and classical education classes in the homeschool community-I have returned to where it all started.

As a family, she loves to travel, play basketball (on the sideline cheering loudly), and enjoy their community of family, neighbors, and friends-just doing life together. In her personal time, she enjoys going to concerts with her husband, singing and playing music, cooking, and enjoying a good cup of coffee (lots of coffee).
FAVORITE THING ABOUT PACT
The community aspect of a charter school. I love that parents, teachers, and students have intentioned to make the best educational choices for their community. I love seeing K-12 in one building. Students can gain so much value from learning in such an environment.
OTHER WAYS INVOLVED at PACT
PACT Parent
School Board Director
EDUCATION
B.S. Education with Vocal Emphasis (K-12), University of Northwestern - St. Paul
FAVORITE QUOTE
I have come to the frightening conclusion that I am the decisive element. It is my personal approach that creates the climate. It is my daily mood that makes the weather. I possess tremendous power to make life miserable or joyous. I can be a tool of torture or an instrument of inspiration, I can humiliate or humor, hurt or heal. In all situations, it is my response that decides whether a crisis is escalated or de-escalated, and a person is humanized or de-humanized. If we treat people as they are, we make them worse. If we treat people as they ought to be, we help them become what they are capable of becoming.