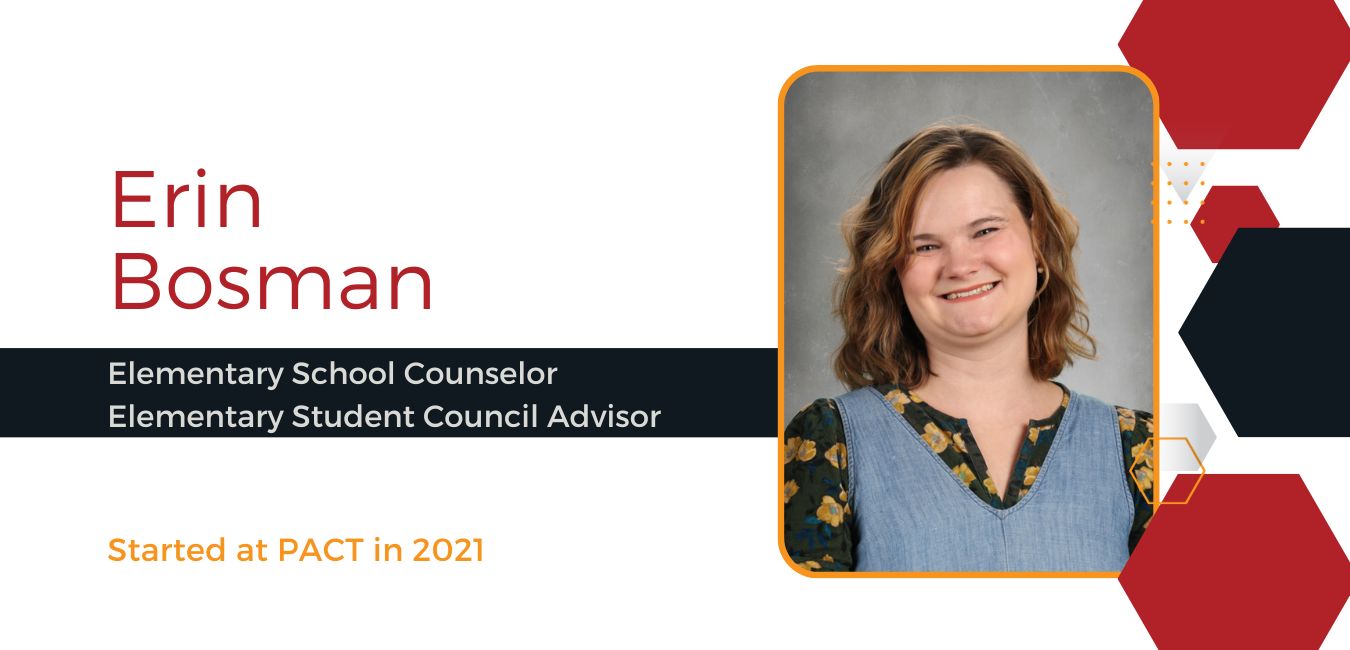 PROFESSIONAL EXPERIENCE
Long Term Substitute School Counselor at Cottage Grove Middle School (Spring 2021)
Long Term Substitute Elementary School Counselor in Osseo Area School District (Spring 2021)
EDUCATION
M.S. School Counseling, Capella University
B.A Psychology and Organizational Communication, University of Wisconsin-Eau Claire
AWARDS | CERTIFICATIONS
NBCC nationally certified counselor
ASCA Diversity Equity and Inclusion Specialist
FAVORITE THING ABOUT PACT
The welcoming environment and all the hugs, high fives, and hellos she gets throughout the day from Elementary students!
OTHER WAYS INVOLVED at PACT
Elementary Student Council Advisor
Elementary CFT Secretary
LIFE OUTSIDE PACT
There is so much that Ms. Bosman enjoys in her free time - she loves traveling and exploring the areas around her. She enjoys painting and exploring art museums and galleries, and she likes going to concerts, comedy shows, and plays. She also enjoys baking, cooking, gardening, taking care of her many succulents, reading, and drinking much-needed coffee. Most of all, she loves spending time with her husband, their extended families, and friends. She also loves cuddling with her dog Kona.
FAVORITE QUOTE
If I get to be me, I belong. If I have to be like you, I fit in.