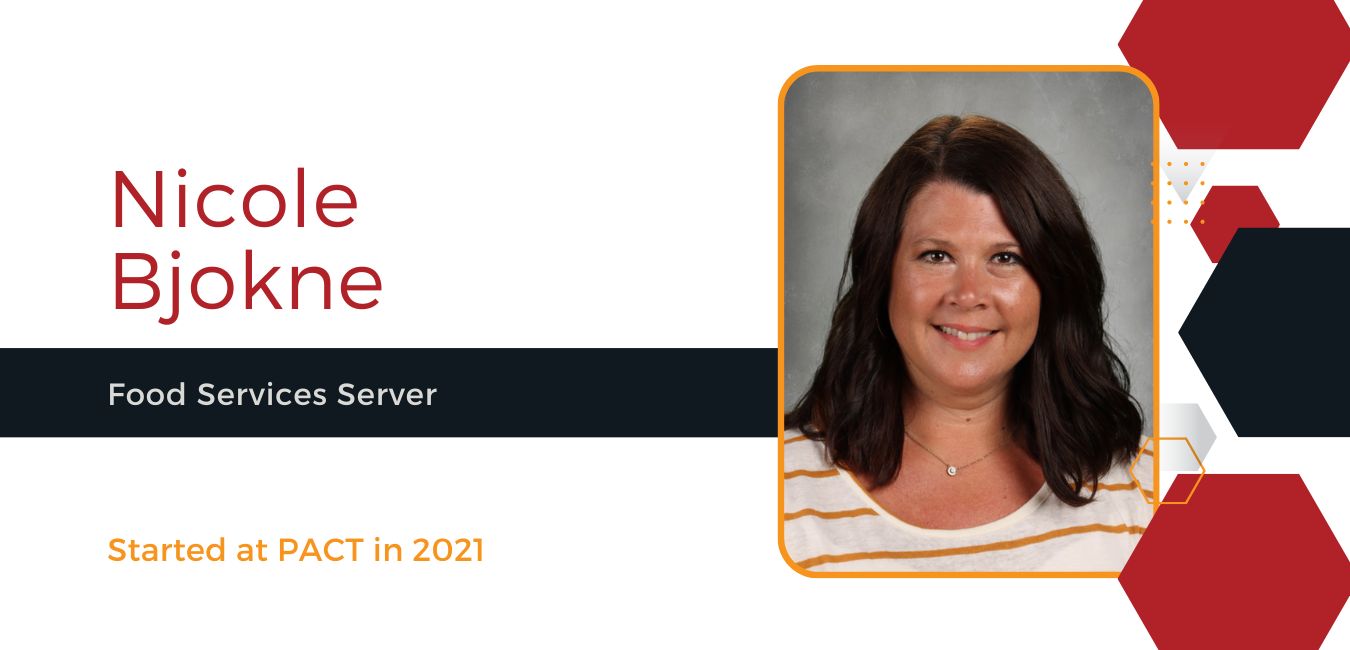 PROFESSIONAL EXPERIENCE
Ms. Bjokne grew up in Coleman, Wisconsin, which is a tiny town north of Geen Bay. Yep, she is a Packers fan. Don't hate her.

After college, she worked in retail for a couple of years at the Younkers Department Store. In 2000, an opportunity arrived, so she moved to Minneapolis. She then worked for Tension Envelope as an office assistant and receptionist. Five years later she became a mom and decided to leave the working world and be a stay-at-home mom. 

The Bjokne's have four students at PACT and have been part of the PACT community for 12 years
LIFE OUTSIDE PACT
Ms. Bjokne enjoys seasonal decorations, crafting, going out with friends, laying out at the beach, camping, and bonfires. Her family just became cat people and now have two cats. Her husband loves all sports and because of him, she became a golfer and now has her own golf clubs. Whatever sport is in season that is what their family is into. Currently, they have a volleyball net set up in their backyard and play as a family whenever possible. The Browns against the Blues because they have three people with brown eyes and three people with blue eyes in their family. Shockingly, they are pretty even teams.
FAVORITE THING ABOUT PACT
Growing up in a small community and attending a smaller school, PACT reminds her a lot of her school. She really appreciates the character that PACT stands for. She has been to many sports events and maybe we have lost, but the character quality of our students she couldn't be more proud of. She is very thankful for the teachers and staff at PACT as well as the parents who are investing great character qualities in our kids.
OTHER WAYS INVOLVED at PACT
PACT parent
Enjoyed working in the classrooms as a teacher's aid
Chaperoning on several field trips
EDUCATION
Secretarial Science degree, Northland Baptist Bible College - Dunbar, WI
High school diploma, Faith Christian School -  Coleman, WI.
FAVORITE QUOTE
The Lord Himself goes before you and will be with you: He will never leave you nor forsake you. Do not be afraid; do not be discouraged.