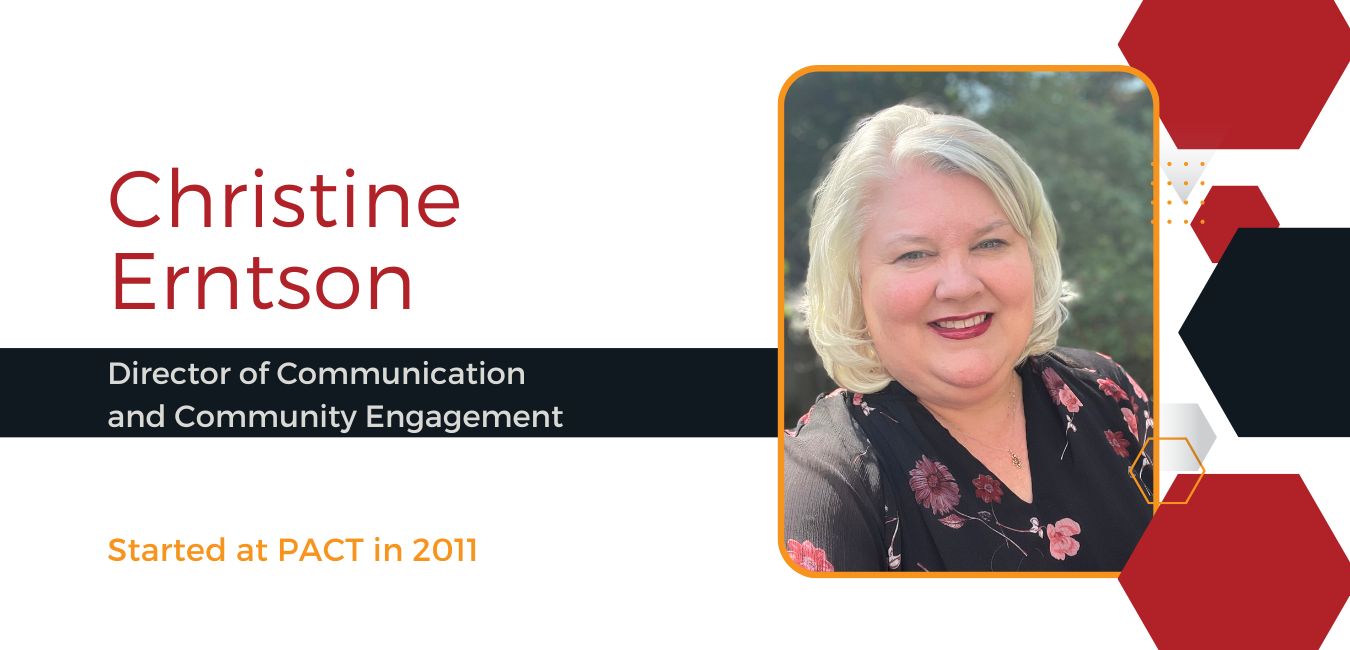 PROFESSIONAL EXPERIENCE
After graduation, Ms. Erntson worked for the Billy Graham Evangelistic Association and then at Bethel University, where she was the Marketing and Communications Coordinator from 2003-2023.

She began working part-time at PACT in 2011 as a Committee Clerk and, in 2014, took on the role of Communication Specialist – managing the PACT Pilot newsletter and eventually social media. In 2018 she took on the rebranding project to help develop a new logo for the school and an environmental brand for the building. Shortly after that, she reluctantly agreed to create a new PACT website that keeps her lying awake at night – at which time her title changed to Marketing and Communication Coordinator. In 2023 she was promoted to the Director of Communication and Community Engagement.
LIFE OUTSIDE PACT
Ms. Erntson lives in Brooklyn Park with her husband, David, and two boys, Matthew and Christopher. She enjoys reading, writing, photography, and Starbucks Iced Caramel Macchiatos.
FAVORITE THING ABOUT PACT
Seeing the amazing things happening inside of a school day with our students and creative and caring staff - and then having the honor of showcasing those stories so families can celebrate them!
OTHER WAYS INVOLVED AT PACT
Former PACT parent
Loves to attend PACT extracurricular events
EDUCATION
Master of Business Administration (MBA), Bethel University
B.S. Business Management, University of Northwestern - St. Paul
AREAS OF EXPERTISE
Social media, newsletters, branding, and the well-placed comma
Organizational process, procedures, and keeping her head just above water
Known to run with scissors and survive (so far)
FAVORITE QUOTE
Making the simple complicated is commonplace; making the complicated simple, awesomely simple, that's creativity.