PACT is growing!
PACT continues to drive toward an expansion that will allow us to open a Secondary Campus in the fall of 2023. This growth opportunity is exciting for our current students and allows more students from the area to get off our waiting lists and into our classrooms! The new location will expand our program offerings, build extracurricular programs, and increase our reach and reputation in the community. 
PACT has retained the services of 
J.B. Vang Development Management Services
 to assist with the expansion project, and
Pope Architects
for design.
Location
The land parcel PACT is interested in is the 18 acres between Central Park in Ramsey and the St. Katharine Drexel Church property. It's located on 161st Ave NW between Armstrong Blvd NW and Variolite Street NW. The parcel has a beautiful line of trees and wetlands and provides a gorgeous backdrop for the new Secondary Campus. A land purchase agreement has been drafted and reviewed by both parties. Once the City of Ramsey approves our plans, the land purchase can be finalized.
Building Plans
The Facilities Committee is meeting weekly and is currently determining the footprint. The Ramsey City Council approved the rezoning proposal on March 8, 2022.
Current plans for the new Secondary Campus include more classrooms, a larger and more open library media center, more art/industrial classrooms, a football stadium, a track, two gyms, and a large auditorium. This dream has been shared with the architects creating layouts for the new building. Costs will be determined once a design is set, and budget approvals will need to be finalized.  
Programming
With input from the parents on the Secondary Programming and Curriculum Committee, administration and teachers have been working hard to determine class offerings and electives at the new Secondary Campus. Many of these decisions will affect building design and space needs. The challenge has matched the excitement of more electives with core classes, graduation requirements, and keeping our non-school Fridays. Exciting offerings are being planned in all areas but especially in concurrent enrollment and more hands-on courses.
Staffing
The School Board of Directors has approved three Executive Directors in the expansion. Mr. Nyquist will serve as Executive Director of Operations over both campuses. Ms. Erendu will shift her role to Elementary Executive Director of Education on the Elementary Campus. And a new position of Secondary Executive Director of Education has been posted! We plan to have this position start on July 1, 2022, to help in the planning process. 
Staffing will need to double across K-12 between 2023 and 2028, including teacher, para, and school support roles. In addition, some positions will be responsible for both campuses and will commute between the two. 
Enrollment
The current expansion plan allows PACT to increase our grade sizes by 100% between 2023 and 2028. For the Secondary Campus, grades 6-9 will be expanded by 50% - 100% in the first year, and each of those grades will then feed into the next grade as they advance to the next level, until we are at total capacity by 2028. This leaves open the possibility to grow faster based on interest and capacity. 
On the Elementary Campus, grades K-2 will double by two sections, and grades 3-5 will gain an extra section in 2023 to increase by 50%. The classrooms will then increase in the years following until we reach four sections for each grade level.
While filling all the classrooms immediately would be exciting, a growth explosion could tax our resources and weaken our ability to provide an exceptional education. PACT could also see a significant culture shift. While filling the classrooms will remain a priority, and we hope to see rapid positive growth, the School Board and Administration, along with the guidance of our Authorizer, will consider what is best for all students and staff.
Facilities Committee
*Various staff and parents will be brought in to meet/consult as needed.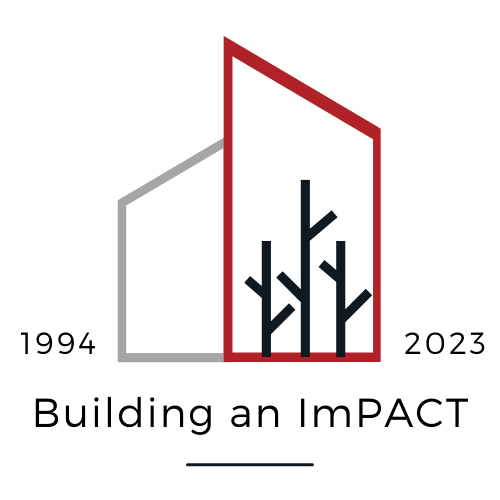 "Building an ImPACT" Logo
The "Building an ImPACT" project is underway, and our new campaign logo has a lot of meaning!

The frame on the left symbolizes the current building. The structure on the right represents the new building. The year 1994 is when PACT was founded, and 2023 will be when the new facility opens, and a new era of PACT Charter School begins! The trees symbolize both the wooded landscape of our new property and the growth of both students and our school as a whole.
Countdown to Opening Day!