Building a Foundation
At PACT Charter School, we are focused on partnering with parents to educate the whole child, especially during the formative years. We challenge each student to grow intellectually and believe students learn best by having the opportunity to explore through a multitude of ways.
We allow students to do that in a safe and nurturing environment, highlighted by small class sizes. We have a dedicated team of faculty and a robust curriculum to challenge the minds of our students. Our teachers continue to grow in their desire to impact the heart of our students to be sure they develop a life-long love of learning.
The best parts:
Strong core academics
Weekly classes in technology, media center, music, art, and gym.
Average class size of 24, with a 16:1 student/teacher ratio.
"Advisory Buddies" pairs students in grades K-6 with middle and high school students.
A character-education curriculum focused on our nine character qualities. 
Teaching Methods and Curriculum
The goals of PACT's teaching methods and curriculum are to promote higher-level thinking in students, meeting students at their ability level, and helping them to reach their full potential. We accomplish this in various ways, including:
Incorporating multiple intelligences: logical, intrapersonal, musical, kinesthetic, spatial, linguistic, naturalistic, interpersonal

Focusing on multi-sensory learning as much as possible

Teaching students how to research using a variety of resources

Integrating subjects and cross-curricular projects when appropriate

Providing an emotionally and physically safe, positive learning environment

Working Collaboratively

Training students in decision-making (Love and Logic)

Differentiating instruction

Focus on student engagement and high-level questioning techniques
Core Curriculum
Phonics
The Writing Road to Reading:
"Reading Works" curriculum uses phonics, reading, writing, and spelling alongside each other as part of a complete package to teach the "language of instruction" and then begins to carefully build a foundation upon which skills of ever-increasing difficulty can be built. One skill builds upon another like building with blocks. Creating a higher vocabulary, grammar, composition fluency, and reading comprehension. By teaching them together, the student develops a higher appreciation for the written word. Published by The Works People.
Language Arts
Journeys is a comprehensive K-6 English language arts program. It provides an instructional system for reading both literature and informational texts, for acquiring foundational skills, and for developing mastery of speaking, listening and writing. Published by Houghton Mifflin Harcourt.
Specials Classes
Visual Arts
Each week, students attend instructional art classes that focus on artist tools and techniques like painting, drawing, sculpture, etc. They learn basic art principles and create original works of art.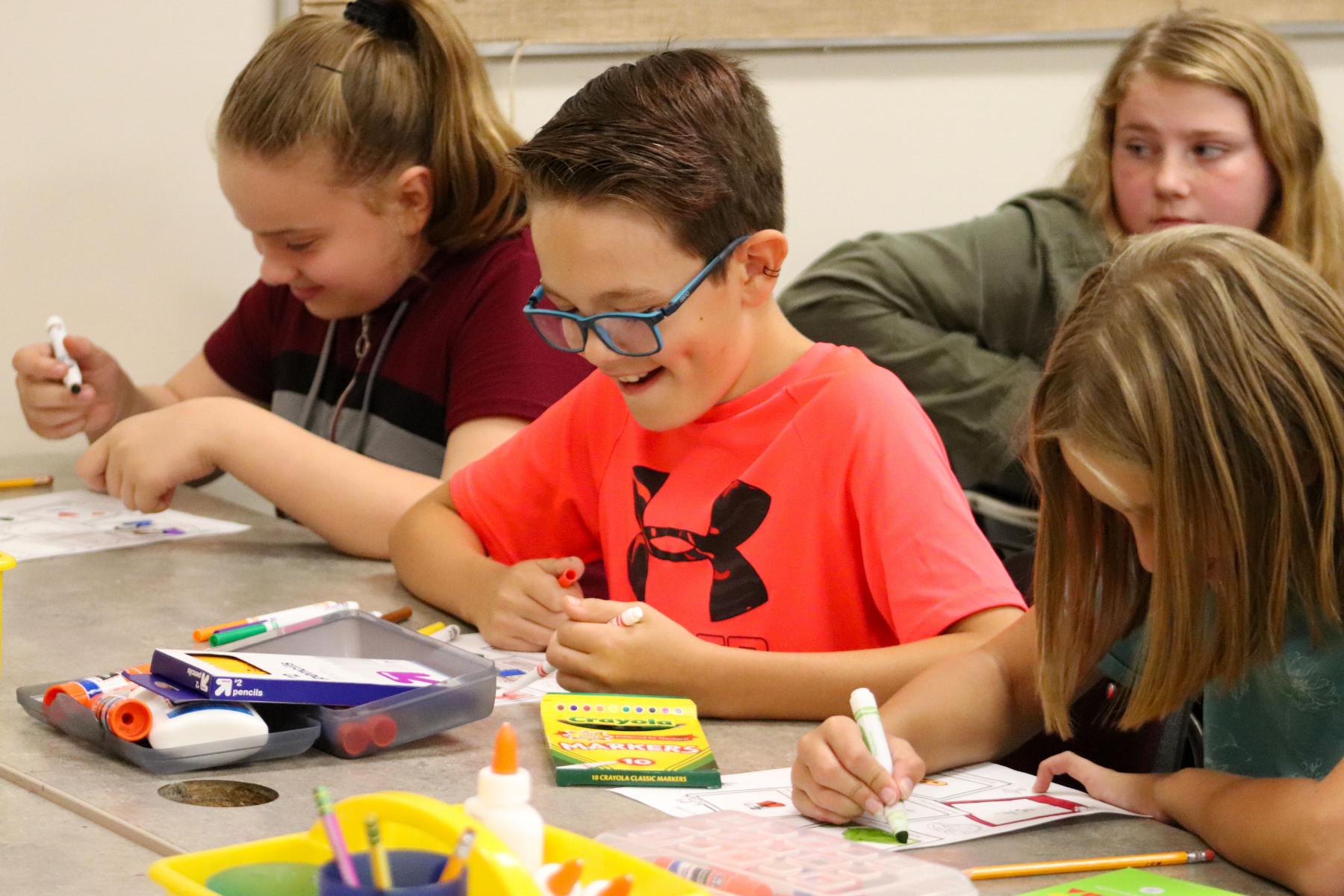 Elementary students receive differentiated instruction based on their needs. In reading and math, differentiated instruction is provided during daily What I Need (WIN) Time. Students in need of additional help may receive small group assistance from licensed teachers. This also provides time for the homeroom teacher to meet with small groups of students to provide extra support and enrichment.
Elementary Grading Symbols
Standards-based grading is used in grades K-4 to allow teachers, parents, and students to easily identify areas of strength and need.

To prepare students for Secondary, grades 5-6 use letter grades A through F in core subjects and the following numeric symbols in specials/enrichment courses:

4 = Excelling (Consistently exceeds grade-level standards)
3 = Proficient (At grade level standard)
2 = Emerging / Developing (Limited proficiency of grade level)
1 = Area of Concern (Below grade-level standards)
NA = Not assessed